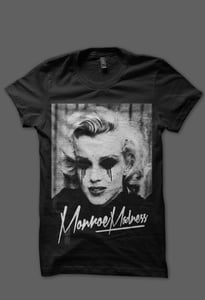 £

12.00
DESCRIPTION:
Do you love anything Monroe related, Then prepare to drop dead. this design features an iconic image of Ms. Monroe with a dark edgy twist perfect for all you quirky fashion lovers!
EXTRA:
- Design is printed using digital direct on a classic cut t-shirt made from 100% cotton.
- Shirt may smell slightly like vinegar due to the printing technique, Don't worry it will vanish after the first wash.
SIZE CHARTS:
Mens Size Chart:
SIZE WIDTH LENGTH
S: 20.5 27.5
M: 20.9 28.0
L: 22.0 29.1
XL: 22.8 30.3
Womens Size Chart:
SIZE WIDTH LENGTH
S: 16.5 23.8
M: 17.3 25.2
L: 18.5 26.2
XL: 19.1 27.0